Host Your Holiday Party at Alibi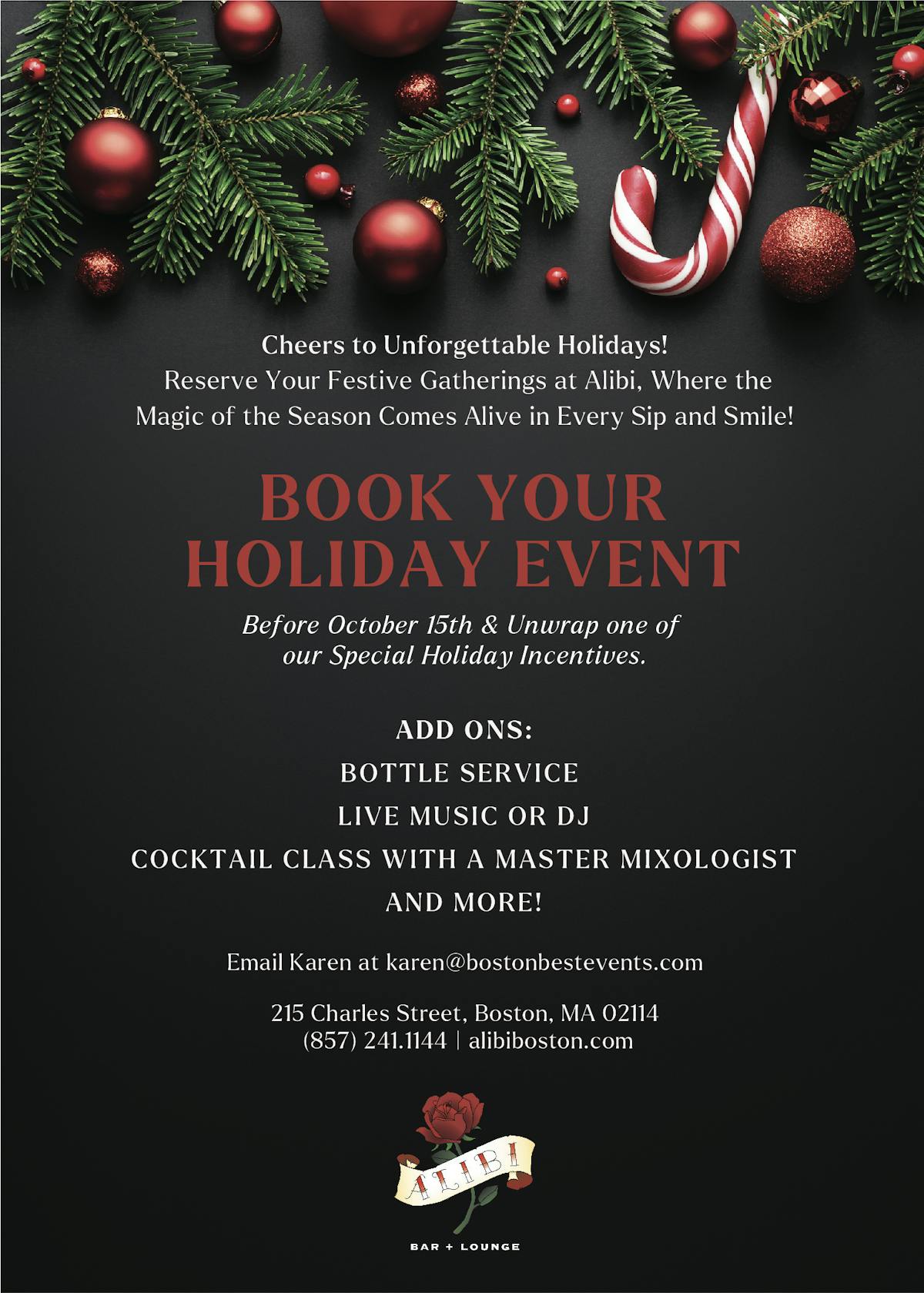 Are you ready to spread some holiday cheer? Look no further than Alibi, the perfect venue to host your upcoming holiday party! Alibi provides a fun ambiance that will leave a lasting impression on your guests and make your celebration unforgettable. Whether you're hosting a corporate gathering, a family party, or a fun get-together with friends, Alibi has got you covered for your holiday event. Continue reading this blog post to discover why Alibi is the perfect venue for your holiday party.
A Premier Location in the Heart of Boston
Alibi's prime location in the historic heart of Boston sets the stage for a magical holiday celebration. Alibi is located at 215 Charles Street, in the lovely streets of Beacon Hill. This charming neighborhood is famous for its cobblestone streets, gaslit lanterns, and historic architecture. During the winter months, Beacon Hill becomes the perfect Boston backdrop for your holiday event. Alibi's ambiance will captivate your guests from the moment they arrive.
Unparalleled Private Event Spaces
At Alibi, we understand the importance of privacy and exclusivity for your holiday gathering. Every event is special and deserves a certain ambiance; that's why we offer a range of private event spaces to choose from. Our team is dedicated to working with you to create an unforgettable experience that aligns with your vision. Take a look at our Private Events page to explore the available spaces and packages. We can't wait to make your event one to remember!
Unwrap Festive Specials
'Tis the season to indulge, and Alibi has something special for you. Booking your holiday event with us before October 15th will unlock exclusive incentives to make your celebration even more spectacular. Alibi has everything from bottle service that will keep the spirits high to engaging cocktail classes that will add a dash of flair to your party. We commit to ensuring your event shines as bright as Rudolph's nose.
A World of Entertainment
The holiday season is all about joy, and what's more joyful than a dose of entertainment? Alibi offers a range of options to keep your guests entertained and engaged. We provide a range of entertainment options to suit your preference, whether a live band to set the mood or a DJ who can spin the latest hits. Our skilled team will collaborate closely with you to ensure that the entertainment for your event is perfectly curated, guaranteeing that your guests won't stop dancing the night away.
Secure Your Spot on Santa's Nice List
Don't miss the chance to secure your spot on Santa's nice list this year. Contact Alibi now to book your holiday event and take advantage of our festive specials. Our team is dedicated to making this holiday season unforgettable for you and your guests. Let's party and create memories that will last a lifetime!
In conclusion, Alibi, located at 215 Charles Street in Boston, MA, offers the perfect blend of a premier location, private event spaces, festive specials, and top-notch entertainment for your holiday celebration. Let Alibi be your go-to venue for spreading joy and creating cherished memories this holiday season. Contact us today, and let's make your holiday event a sparkling success! Send us an email at karen@bostonbestevents.com to secure your event.